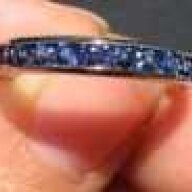 Joined

Oct 28, 2004
Messages

266
Hello all! My husband and I are looking at buying an all-sapphire band!

It''s both of our birthstone. It will be a rhr, and will be worn every day. I am going bonkers in my indecisiveness! I''ve decided to go with Signed Pieces, and the ones they have that I''m looking at are the maternity band styles- no baby, but that''s the style I like, how silly is that!

I''ll post the pictures of the styles in a second.
Anyway, I''ve searched and searched here, and I still have questions-
1- Channel-set vs shared prong- I love both styles, but am leaning towards the prong because it just seems like it would sparkle more and have less metal covering up the small stones. However, I''m concerned about the durability issue. I know sapphires are hard enough for daily wear, but is the shared-prong too exposed and asking for trouble? I''m not particularly hard on my rings, but I don''t want to have to worry about my ring constantly.
2- White gold vs platinum- if I decide to go with channel-set, it wil definitely be platinum because wg tends to yellow quickly on me. However, on shared-prong, would the eventual yellowing be as noticeable with so little metal showing? Is it worth the extra $$$ for platinum in shared-prong?
3- Width- the shared-prong band I''m looking at is 2.4 mm. I''d like the band to be able to stand alone or be stacked with my other rhr''s. Is 2.4 mm wide enough to stand alone? Would it be worth a few hundred extra to go with 3 mm stones, or would 2.4 be wide enough to stand alone? Most of what I wear is pretty small- my ering is only .55 ct, and most of the rings I wear have between 1.5-3 mm wide shank. I can''t try any on because I''m in Japan and our navy exchange has nothing even close, and the local jewelers only have super-tiny bands, like 1 mm.
I was set on channel because most of my jewelry is channel-set, but I keep finding pictures of the shared-prong ones that are so gorgeous! My husband likes the prong style better too. Particularly, this one, belongs to Woobug:
https://www.pricescope.com/community/threads/woo-my-new-sapphire-eternity-band-from-raphael.46159/
. That blue just makes my heart stop! I like all the sapphire-diamond bands I''ve seen on here, but something about the all blue just makes me drool.
Sorry this is such a wordy post. Husband thinks I''m nuts.

Please help me decide and end the craziness!!!