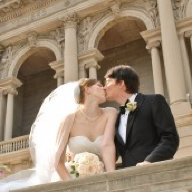 Joined

Oct 20, 2008
Messages

340
I am at the point of ordering invitations and need a bit of advice.

I have imagined engraved invites announcing our wedding since I started planning. I love the look and feel of engraved, but when I brought it up with my FI, the only difference he can see between engraved and thermographed is the price. I am a trained designer so obviously I care way more about printing and papers and such, and please feel free to tell me I am being an invite snob, but engraved feels more traditional and artistic to me. Thermography is much shinier and feels like simply a process created to mimic engraving for cheaper.

Then again, if he can''t tell will anyone else notice the difference? Is it worth it to spend an extra $100 for engraved if I''m the only one who will care?

Is there anything that you cut back on from your initial imaginings that you regretted? Or conversely, thought what was I thinking holding onto that idea?!?