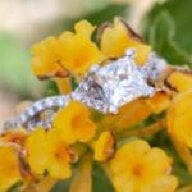 Joined

Mar 25, 2011
Messages

247
Just a funny note that a few of you might get a kick out-of!
I have been a terrible, terrible nail-biter all of my life. To boot, my hands are literally the smallest hands I (and many of my friends) have ever seen on an adult. Any trips to the nail salon normally result in comments that I either shouldn't bite my poor stubs of nails, or that I have the hands of a midget. Wearing nitrile gloves at work/school has never helped my hands much, either (eek).
FI and were on vacation when he proposed so I had the luck of acrylic fakies to cover up the stubs. When they came off a week after we returned, however, a miracle happened: I stopped wanting to bite my nails! One look at my fantabulous ring and I'm too busy trying to reflect the sun in someone's eye with it.
Anyway, I have braved a very busy finals week and am proud to say that I've kicked the habit! I don't know if it's the happiness that comes with being engaged, the desire to have my hands look as lovely as the ring they're wearing (or rather, to avoid the embarrassment of my nails when people want to see the ring!)... I have even begun painting my nails on a regular basis, and have mastered the art of a french tip (my nails have tips to french!)!
Anyone else managed to up the upkeep on their nails since getting engaged? Or pulled off some other self-improvement? I thought it'd be interesting to see if anyone else is a "changed woman" since the question was popped.