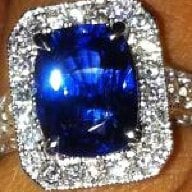 Joined

May 16, 2010
Messages

205
Well ladies...he popped the question on Friday so of course I said "yes"!

For a quick background story to the actual engagement:
Our anniversary was Friday August 19th. He surprised me with a mini-vacation to Solvang, one of our favorite So-Cal wine country destinations. My family was unusually casual and blase about the whole thing, which gave me a little panic. Maybe he wasn't going to propose on the trip? Maybe he was throwing me off intentionally...I was a little nervous!
Ok, now on to the engagement story!
Our first stop after we had lunch at our favorite breakfast stop was the Santa Ynez Mission. I love that place, it is so beautiful and the history behind it is fascinating. There happened to be monks there at the mission so he used this as an excuse to explore the ground behind the mission instead of actually going inside to look around first. We ended wandering to the very back part of the mission toward a private road. It had a beautiful view of the Santa Ynez Valley. I love parking at the mission and just looking at the beautiful rolling green hills and being able to hear absolute silence. So we stop at the top of this road and and looked for awhile at the beautiful view. He then gave me a big bear hug and told me how happy we was that it was our anniversary and how much he loves me and that he's so grateful he met me and that I came into his life. He then went on to give me a few kisses and smooth back my hair and said that he is so happy we get along so well, just like best friends and that he just wanted to know if I wanted to spend the rest of my life with him. I honestly though that IF he were to propose on our anniversary he would do it before or after dinner since we would be all dressed up, so in that way he DID totally surprise me. However when he smoothed my hair back and looked me in the eyes I saw a "look" and in my mind I was like "omg...is he going to propose now??" so when he asked me if I wanted to spend the rest of my life with him I was like "Oh, yes of course!" so he got down on one knee and said something to the effect (and don't quote me!) of "I can't wait to spend the rest of my life with you and call you my wife" (clearly when your in the moment and he gets down on one knee you kind of forget the actual wording!) and he pulled out the ring box and opened it and I almost went weak in the knees. The ring was FAR more beautiful than I even thought it would turn out. It is SO sparkly and the sapphire has such life in different lights.
He slipped the ring on my finger and we were engaged! It was such a peaceful place and an intimate moment, just the type of proposal my love would think of.
We are SO happy and excited
Here are some pics we were able to grab with our camera phones. I intend to take better pictures with my digital camera once I get the hang of jewelry photography, lol. The pictures from the phone just do not do it justice. Under the restaurant lighting, the diamonds looked like they were on fire and we got lots of compliments from everyone. We even got lots of free glasses of wine when we went tasting after because when the pourers complimented me on my ring he proudly told everyone that we just got engaged and they would all start clapping and congratulating us telling me "he did good!"
So here are the pictures that I have for now