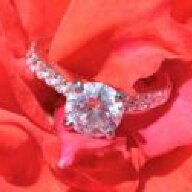 Joined

Feb 24, 2011
Messages

146
Well, ladies, I am actually engaged!! He proposed last Tuesday night, but we flew out to California the next morning at 6am, so I had no time to post the story and pics before we left, and I didn't have access to my computer with the pictures until we got home late last night. When I say I had no idea it was happening that day, I mean I had NO IDEA...which is pretty impressive that he was able to surprise me like that since I knew it was coming soon. Alright, so here's the story, which is very long, so sorry about that

:
He emailed me Tuesday afternoon from work and asked me if I wanted to go meet some friends at Grimaldi's, a famous pizzeria in Brooklyn that we haven't been to, which involves walking across the Brooklyn Bridge or taking the subway under the bridge. He told me he thought we should walk the bridge to get there since it was a nice night, but he included other details about the other guys meeting us, so I did not at all think anything fishy was going on. When he got home from work, he was telling me all about one of the guys we were going to meet, so any fleeting hope that he was going to propose went out the window, and I actually got pretty disappointed. He told me later he could tell and figured it played to his advantage because I would think that anything sweet he did was to cheer me up, which is exactly how it played out. So, we made our way to the bridge, and it was a beautiful night with the sun close to setting over the water and boats cruising under the bridge. About halfway across the bridge, I had the thought that he and I were taking a romantic walk across the Brooklyn Bridge on a beautiful night and he wasn't going to propose and I couldn't believe he wasn't using this opportunity, but I managed to still enjoy the walk. After the bridge, he said he would like to see the Promenade, a park by the water in Brooklyn with a great view of the city. We walked a scenic tree-lined path toward the water, and when the path opened up at the water, there was a breathtaking view of the city skyline with the sun setting. He put his arm around me, grabbed my shoulder and said "let's stop here." He was being so sweet, but I STILL had no idea because I figured he was trying to make me feel better since I was bummed out earlier. Next thing I knew, though, he was on one knee with the most beautiful ring I had ever seen in his hand! He asked me to marry him, and of course I said yes. I was so surprised - I was still so confused because I thought we were going to meet his friends for pizza! He told me we had other plans, and he had a limo waiting with champagne to take us to our favorite restaurant closer to home, where they had roses and a champagne toast waiting. It was complete perfection. To top it off, we flew to San Diego to visit his brother and girlfriend the next morning, and they made the weekend an engagement celebration. His brother surprised us with an overnight winery stay in Southern California as an engagement gift, which was amazing. So, we got to extend the proposal for a few days and bask in the engagement glow, which was really special.
Ok, on to the bling! I had showed him what I like when we went shopping, and I showed him a setting on
Blue Nile
that I thought I liked. At that point, he told me he wanted to help pick out the ring, and he knew now what I liked from ring shopping so he wanted me to let him take it from there. Well, I am SO glad that I did. He apparently spent hours poring over the options and did not end up buying the one setting I had showed him (
BN
Nouveau) but instead picked out the perfect setting (
BN
Pave). I knew right away it was different because my ring is a low cathedral setting while the other was not, and I was immediately in love with it. I had never looked at cathedrals and had told him I didn't care either way whether it was cathedral or not, but I had no idea how much I would love them! The cathedral part is actually my favorite part of the setting. He told me he got really into the process after I introduced him to
BN
, and he really enjoyed it. I absolutely love that he put so much time and effort into the process to pick out the perfect ring for me, which it absolutely is. It's also so cute now how proud of it he is - we find that both of us can't stop staring at my ring finger. Oh, and why it took so long (if you read my other post) - he got the ring a month ago, and has been trying to do it ever since, but I have only been in town for about 10 days of that month and every one of those days it has rained. He was getting so worried that it wouldn't happen before our California trip and was then planning to bring it out there to do it. Luckily, it worked out perfectly, though.
Ok, details I know you're waiting for if you've read this far - thanks for that by the way
.
Center stone: 1.4
Setting: .5
Cut: Ideal
Color: G
Clarity: VS2
Finger size: 3.75
Thank you ladies so much for all the support that helped me stay sane through my pre-engagement period!!! You all have been wonderful.
DUST TO EVERYONE!!!!
Here are some pictures - I included one of the spot where he proposed and then ring shots of course.