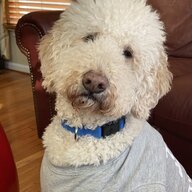 Joined

Dec 8, 2019
Messages

171
Hi All!

This forum helped me a lot when I was having severe second thoughts on my stone purchase.
As I said before, it wasn't a steal bc we purchased at B&M store and I know with similar stats I found cheaper online.

But in the end I'm happy with the ring.

This is not our first marriage and I had a beautiful cushion the first time around. I originally wanted an emerald this time because I adore them, but our budget didn't allow for a larger emerald.

This stone scared the bejesus out of me bc in the past I had a VSF stone that I hated and was nervous of the same outcome. It was milky and dull. Plus I never had a stone lower than J before. (I've had H, I and J). I didn't want the idea of getting engaged overshadow the process of finding a beautiful stone. I also didn't want it to be a haste decision.

Anyway in front of our children and parents I said yes to an amazing human being!

1.02
K
SF
SI1
Ex/Ex/Ex

Ring size 5.75

This stone is truly a chameleon! And that's what I love about it! Sometimes it looks pale blue, other times cooler than its K color and the list goes on and on. Truly a beauty. I never would have considered K let alone SF until I saw this stone shine!

Depending on her mood the stone shows off her personality!