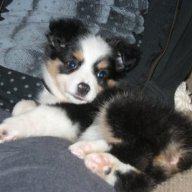 Joined

Dec 17, 2006
Messages

31
UPDATE:

HANDS SHOTS FINALLY.....scroll to second page!

Hi everyone! I'm new to the forums but have been lurking around for awhile. Just wanted to share my wonderful news with other diamond fanatics. I got engaged yesterday to my boyfriend and best friend of three years. He totally took me by surprise....had no idea it was coming (I had just come home from a long day of work and changed into my sweats). As for the ring, it's BEAUTIFUL. I can't stop staring!!! The light and fire from the ring is blinding. I don't have any good hand shots yet, but I will post what he got from
WF
and some pics I took last night.
Specs first:
1.543 ct F VS2 A Cut Above H&A
Item Code: AGS-7011309
. Report: AGS
. Shape: A Cut Above H&A
. Carat: 1.543
. Depth %: 60.6
. Table %: 54.9
. Crown Angle: 34.7
. Crown %: 15.6
. Pavilion Angle: 40.7
. Pavilion %: 42.9
. Girdle: Thin to Medium Faceted
. Measurements: 7.51-7.53X4.56
. Light Performance: 0
. Polish: Ideal
. Symmetry: Ideal
. Culet: Pointed
. Fluorescence: Negligible
Pictures Below