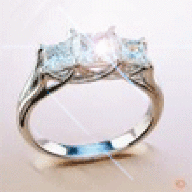 Joined

Oct 4, 2011
Messages

10,658
Woofmama and I both have a love of modern/contemporary design and we decided to do a joint jewelry project and set our round zircons in a matching setting. We scoured the internet for ideas we both liked, then narrowed down to a single setting that each of us agreed on (we worked thru that SUPER quickly - great minds think alike, I guess!) and then approached a few vendors we have worked with in the past. We decided to go with Ilya of DiamondZone and he sent us CAD's to approve prior to casting our rings. They were finished much faster than we had anticipated - Woofmama received hers first (being a local to the Chicago area, vs mine having to traverse the Canada/US border and the assorted hangups that our lovely system provides....!!). I just LOVED hers and I was so excited, I couldn't wait to meet my ring!!
I'll let Woofmama give the specs on her blue zircon/YG ring but here are the specs on my rosey/orange/pink/copper unheated zircon in RG:
The zircon (my birthstone) is from Dana Reynolds at Mastercut Gems, 2.7 cts, 8.1mm diameter, from Tanzania. I had it shipped directly from Dana to Ilya so I do not have any pics of it unset other than the link from his site:
http://mastercutgems.com/index.php?page=viewgem&id=7742
The setting is 14k rose gold, which looks YG in some pics in a size 8. Spins a bit but that's because its winter here, come summer, I probably won't be able to get it on or off! I have worn this constantly for the past 2+ weeks! I find it super comfortable to wear and am getting a lot of compliments on the style. THANKS Ilya and DZ! I am very happy with my lovely birthstone ring!!
Woofmama will be along shortly to add her details!