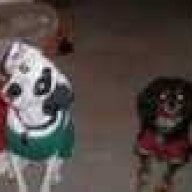 Joined

Dec 31, 2008
Messages

4,508
READ WITH CAUTION, I HAVE MOUNTED A PRETTY HIGH HORSE!!!!

:
gwendolyn- I don''t think really any of us are condemning him... we''re just shooting the breeze. I personally was responding to the topic of what "emotional cheating is" and not really "is he guilty".
Personal experience says this. People that are guilty of emotional cheating... know that they are doing it. There is a little rush you get when talking to that person, and even when you are just talking, a slight touch of the arm, brings a rush of heat to the ole nether-regions. You may not be actually cheating... but the harmless flirting may not be so harmless if you are actually building a relationship with the person. YES you are cheating if you are ACTIVELY BUILDING this relationship with a NEW PERSON and you are getting the slippery slope downstairs... whether or not penetration actually occurs.
MY CLOSEST FRIENDS ARE GUYS. MY SELF ESTEEM IS IN TACT... and I KNOW I AM GOOOOOOOOOOOOOD LOOKING!

Does my DH think anything of me going out with the guys and throwing down a pint w/o him there? Nope. Is there sexual tension, or flirting? NOPE. NADDA. But I used to be a mega-watt flirt. I WAS INSANELY Guilty in a few past relationships of emotional cheating. BIG TIME. I used to fantasize about doin'' it w/ the other person...what kind of lover they''d be... you name it... I thought about it... and I DEFINATELY walked a few lines and can honestly say I WOULD have acted differently if my BF was there. I never sealed the deal.. but honestly, I said to myself, I am building a relationship with this other person, because something is lacking w/ my BF and ... then I''d dump the BF...never for the fantasy, that was old news.
Now, that I am married, I hold my hubby to the highest respect. I know myself, and I can honestly say, I don''t need new friends of the opposite sex when I am getting the warm and fuzzies... DOWN THERE. That heat is reserved solely for my DH.
Tril - you have your man trained well!

Circe - I get ya. Honestly I do. I am a true believer that love can go beyond the genetals of I''m an innie you''re an outtie. I am not condemning just opp sex relationships. I''d be a hypocrite. But if you are feelin'' oozy over someone... it is best to cut the cord, either with your friend, or lover. Because wetness is a physical reaction to emotional cheating.
ALSO on a side note I AM TOTALLY DOWN WITH FANTASY. It is not an issue in itself. But when you are fantasizing of people you know, and you could physically TOUCH, temptation may not get the better of you... but your reactions and you are in the beginning stages of a relationship...
Focker OUT!