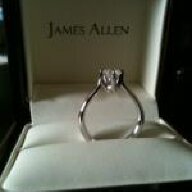 Joined

Mar 3, 2010
Messages

31
Hey guys, I'm happily engaged now and thought I would write few words about Emilian jeweller.
I have been looking for honest and easy to talk to jeweller for a while and have visited many jewellers before I finally found one. I have been looking for one that would do a setting for me, as I bought my diamond on
JamesAllen
website and wanted a great setting to match my great stone
I visited a lot of jewellers in Eaton center Toronto area and I hada feeling like I was in the wrong place, as most of the stores looked not cared for and had a bad vibe, maybe it was me, but I was expecting high end stores there, or maybe I simply did not find the right jewellers.
Then I checked out Square one in Mississauga, horrible experience, not even sure why I went there, one store employee was pulling car salesman pitch on me, trying to make a quick sale, the other fed me bull, overall nothing to put a smile on my face.
Then thanks to pricesope I found recommendations to Emilan, and I never thought I could get a service like I got. Steve and everyone on his staff treat you with kindness and love. They want to have a customer for life, not a quick sale.
They would go over everything with me, pro's, con's, what they thought, never once trying to put a salesman pitch on me.
I gave Steve wrong size, and after engagement we came back for adjustment, but his assistant took care of us as Steve was out of the shop, she however took the measurement wrong due to how the ring is shaped and it was still half a size too big when we came back for pickup.
Steve appologized and got right on it, and as a gesture he did not charge me for appraisal he had done on the ring.
For everyone considering a jeweler don't hesistate and stop by, I'm defeniatelly coming back for wedding rings.
Here's a Iphone (don't have camera) pic of the ring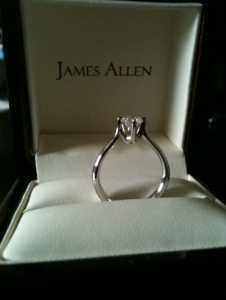 Pic of Emilian Jewellery