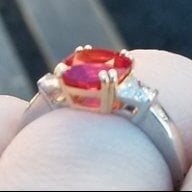 Joined

Nov 3, 2009
Messages

7,589
I think I have featured them on the PS. And the main reason for selling them is not financial - I know one's losing money on selling. It is more practical - I have never worn them. And if I do not wear something, to me, it means that in my heart of hearts I do not care about them. Emeralds are not "my" stones. And since I have too many things that I do not wear, jewelry, awesome flowers made of seed beads, enamel, what not, but do not wear them, I should probably start selling them or giving as gifts because my jewelry boxes are all full. I have some beautiful things from Russia which I plan to give as gifts to my son's teachers or his/my doctors or other people who surround us and who we need.
Emeralds are expensive, and I had them reset per my appraiser's advise. I bought them from a store that was going out of business so I do not know their real price but I shall find out from my appraiser what I can realistically expect to get for them. I do not have any other gains in mind by posting it here except for getting your honest advise.
If I ever buy an emerald, one, for collection, I want a really, really good one but since I have no clue what a "good emerald" means it may be a long search. I have one emerald ring which I can not part with because I bought it for my mother shortly before her death, and I was a medical resident with very little money. The color is very nice and saturated although there is an eye-visible inclusion inside the stone but as I have said, I should not sell it. With these ones, I would not really notice if they are in my box or not.
[URL='https://www.pricescope.com/community/threads/my-new-earrings.135731/']https://www.pricescope.com/community/threads/my-new-earrings.135731/
[/URL]
With some other earrings, tsavorite dangles, etc, it is all clear - I can use the stones as side stones and scrap the gold, but how many times can you reset emeralds?
Sorry for a long post...