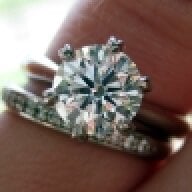 Joined

Mar 24, 2007
Messages

1,769
My boyfriend took me to Tiffany''s to look at rings recently (either a really stupid or really smart move depending on how you look at it - he got me really excited about getting engaged soon, but created a monster in the process. He seems to like it

), and now my standards for what a setting should look like have skyrocketed. I love the simplicity of the original tiffany - 6 prongs perfectly proportioned and elegantly mounted - but now I''m seeing all the flaws of the "tiffany" rings seen in typical stores. They just lack a certain finesse in my eyes, and I''m sure it''s more than just the name influencing me.
Though I love the Tiffany original, I don''t really want my bf to drop his money there. I know he can get as good or better a diamond for less elsewhere. At the same time, I don''t want my setting to just be a copy, regardless of how good it is (like the superbcert one). I''m thinking what I really need is a unique solitaire setting with the qualities I really want - 6 prongs and understated elegance. I''m not a fan of all the 4 prong designs, and given my lifestyle feel the security of 6 prongs is a better choice. I''ve come across the DVatche Royal Crown setting online, but haven''t seen it in person yet to see if I like it.
Does anyone have pics of rings that might fit the bill? I''m looking for ideas to pass on to my bf so if he looks into designing the ring himself (which he''s mentioned in passing) he has a bank of inspiration to draw from. Thanks!!