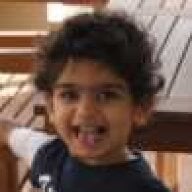 Joined

Jan 3, 2005
Messages

1,260
as some of u may already know, my son is allergic to eggs...i''ve given him the odd bite here and there of cakes/cupcakes/cookies that contained eggs, and he hasn''t had much of a reaction. That may be associated as well to the fact that i really only give him a tiny tiny piece and I dont want to risk it by giving him bigger portions...
now we''re approaching his second birthday and i''ve asked some of the local bakeries where I am from and none make egg-free cake...I had an ice cream cake last year for his birthday, but want to do something different this time around...
So my question is : Do any of you have a good egg-free cake recipe that i can use?? Many thanks in advance!!