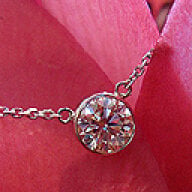 Joined

Oct 30, 2002
Messages

31,003
Every once in a while I run across a stone like this and figure I will share it with my fellow diamond nuts.

It was posted on DCD under their ''Very Best'' cuts meaning that these are supposed to be the cream of the crop stones for you to choose from. No brainer right? Well it''s even got the EGL cert that says its an ''excellent ideal cut'' and has been cut to ''maximize'' brilliance and stone performance.

WRONG...well according to the HCA anyway. I plugged the %''s (not the angles...so we have to give a little here) into the HCA along with the table and depth and the HCA spit back that it was a 4.5 on the scale of 10. It got a good, fair, fair and good. Pretty darn bad if you ask me. It''s not often we run across alot of stones that are rated ''very best'' and get ''fairs'' on the HCA.

Of course there is always the debate on how accurate the HCA results really are. But if I were shopping around and happened across the stone, got excited that EGL noted it was excellently ideal cut, and DCD said it was very best...but the HCA said it was a 4.5..I''d just keep shopping. However not everyone has the HCA to help them weed out *possible* duds. And yes we are using %''s instead of angles, but angles usually only make the stone look WORSE in the end from what I have seen (e.g. a stone scored 1.5 HCA with %''s but with angles its a 2.8...we''ve all seen that before)...so what is this really? A 5.5? A 6?

For those interested, here is the link the stone for your viewing pleasure:
http://www.dirtcheapdiamonds.com/diamond_detail.cfm?did=1697888
1.05 H SI1 ''Best Cut'' $3100
HCA: 4.5 - Good, Fair, Fair, Good

You can click on the EGL cert link on the page to see a copy of the cert along with the ''excellent ideal cut'' notation on the bottom of the cert.

This is an example of why the education that we all gain during the shopping process is so important as well as the extra information from the Sarin (e.g. crown and pav angles rather than %s). Should a customer just take DCD''s word that this stone is a very best cut? Should a customer just take EGL''s word? Should a customer listen solely to the HCA? The answer is NO to all of the above IMO. Its a tricky one but we all make the decision for ourselves. You do the research, learn what you can, then make an educated decision. If it were my decision to make, I would pass on this stone, and run for the door...because there are plenty other stones to look at out there that will score lovely on the HCA *and* have ideal numbers.

This doesn''t mean that all of DCD''s very best stones are going to be 5s on the HCA..I''ve run across alot of them and plugged them in to find they do perform very well. But then you have to ask, how does one like this sneak in?

Hmmm.