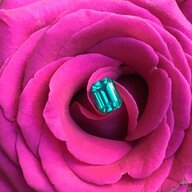 Joined

Apr 10, 2017
Messages

660
Hi all, for those for you that may have seen some of this already on the colored stone thread:
Dear all, I spent approximately $500 on what was described as an "emerald and diamond 14k ring" on eBay earlier this week. Seller has 100% feedback, registered for many years, sells otherwise household stuff, based in US. Just got it. I noticed one "diamond" missing as well as some chipping to...
Basically I bought a $500 emerald ring ($550 including CA tax), and decided to return the day after receiving it because it had an undisclosed chip on the underside of the stone and the ring size is 11.5 not 8.25 as per ebay description.
I contacted the seller and she has been nothing but rude. First she states she disclosed the chip (there's also a chip in the corner of the stone on the table side that she mentioned as "not noticeable" in her listing, but she never mentioned the underside chip) and that she's right about the ring size despite the fact the ring has an inner diameter of 21 mm and measures 11.5 on my standard ring sizer.
Now she's suddenly changed her tune and is accusing me of causing the chip in order to secure a return. I'm surprised she hasn't also accused me of enlarging her ring 3+ sizes over the weekend!
I'm so angry. Chip was obv there for a while due to abrasions/wear around the chip so it's not a new chip. Also, wrong ring size alone is enough to warrant a return—why would I go to the trouble of chipping the stone also???? I hate liars and this seller seems to have a talent for doing so.
I've filed a "item not as described" claim with eBay and left her negative feedback. eBay says I have to wait till April 3 to ask them to step in.
In my almost 20 years of using eBay it's the first time I've left negative feedback and I don't care if it makes it less likely that she'll give me my money back. I just want to warn other people since she has other items listed.
What are the chances of me getting my money back at this point? And if ebay does approve the return and I mail the ring back to her, in addition to insurance and delivery signature, should I do anything else in preventing her from trying to scam me further (by saying she never "received the ring back or that I sent her a brick or some other crazy scenario?")
Am I being paranoid or should I pack up the ring in front of the USPS agent and have hubby video the whole thing?
Help!!!