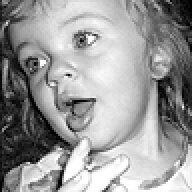 Joined

Oct 3, 2002
Messages

123
It's been a while since I posted. I meant to get back with folks on another thread but I haven't had the chance. (sorry!!)
Here's my latest eBay deal.
A .45 pear that was sold to me as an F VS2. I sent it to the GIA for grading, and it came back as an E SI1. The carat weight was correct. Not too bad.

I paid $399 for the stone originally off of ebay. Then the grading report plus laser inscription of the GIA report number, total came out to $520. Not a bad price. And it's a pretty pretty pear. Good plump shape to it, nice visible facets.
What other interesting buys have any folks here made?