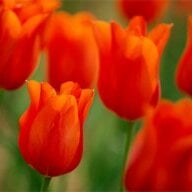 Joined

Dec 29, 2006
Messages

12,461
Chicken is a favorite in my household but I'm running out of ways to make it. I'd love to gather some recipes together from PS and put those with ones I've found elsewhere online. Do you have any ideas to share?

I have two, in case anyone else is looking for new recipes also. Both are super easy!

Orzo pasta and chicken salad

I make this all the time in the summer. Sometimes I make it with bowtie pasta instead of orzo. I'm not including measurements because I just mix everything together to taste. I love this dish because it takes no time to make and it's good warm or cold.

Orzo (or another pasta if you'd prefer)
Greek salad dressing (I like Christie's)
Feta cheese
black olives
grape or cherry tomatoes
baby spinach leaves
boneless, skinless chicken breasts (Cook any way you'd like. I usually poach it or cheat and just buy a rotisserie chicken.)


Chicken salad with Italian dressing

boneless, skinless chicken breasts
celery
onions (yellow and red)
almond slices
Italian dressing (I try to get a high quality dressing rather than your basic Kraft, etc.)
soy sauce
lettuce or baby spinach leaves and paprika (optional)


Poach boneless chicken breasts. You can add celery stalks and chunks of a yellow onion if you'd like more flavor.
Cut chicken into small chunks.
Cut celery into thin slices.
Add rings of red onion.
Add sliced almonds
Marinate above ingredients in a large Ziploc bag or a large bowl with Italian dressing. Add a couple of tablespoons of soy sauce to taste. Marinate overnight or for several hours.

Arrange over lettuce or spinach leaves, sprinkle with additional almonds, and paprika. Serve. Sometimes I make chicken sandwiches with this instead of placing it over lettuce or spinach. Mmmmm....