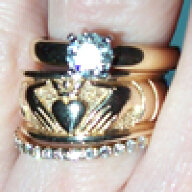 Joined

Jan 29, 2009
Messages

45
DH and I decided that I deserved a nice pick-me-up after all my recent job turmoil. My company announced layoffs and, although I have enough seniority to keep me from being laid off, I have to take another position in the company, so I''ll be on shift. I''ll be working in production, so no earrings are allowed except studs. "What a great reason to get diamond studs," she thought.
Here''s what I finally picked:
http://www.bluenile.com/diamonds_details.jsp?pid2=LD01451605&pid3=LD01403368&filter_id=6
I''m getting them in martini settings, yellow gold because it''s my favorite. What do you think?