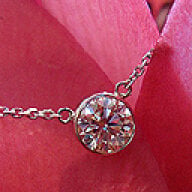 Joined

Oct 30, 2002
Messages

31,003
I think I may have mentioned this to a few people...but here is my diamond earring story which was finally resolved about a week ago to our pleasure!

Two years ago my SO purchased 1ctw H VS2 earrings for me for Xmas...yay..beautiful. We loved the stones, they were round 4 prong tulip-head set, very nice. I wore them happily for two years. Come this last November, we are researching getting a large stone for an e-ring, etc..you all know that story. After we purchase our stone, we take it to an independent appraiser, and decide we want to take the earrings too because SO wanted to get them appraised for insurance purposes as well. BTW while viewing our loose G diamond against the earrings, we noted that the earrings looked more yellow, which I thought was impossible...G to H shouldn''t show a huge difference by naked eye!

We drop everything off, get a call a few days later letting us know the appraisal on the earrings is done. Lo and behold, my H VS2 earrings are really N VS/SI. What!? We were literally floored. When I came in to pick up my items, the appraiser showed me the earrings next to her GIA diamond color grading stones, and I have to admit that while I am no expert, these were far from an H and more like an M/N. Since we are getting our setting custom made through our jeweler, the same one who sold Greg the earrings 2 years ago and sold us our large stone (which BTW checked out superbly)...we figure we will mention the appraiser''s findings and see what they say. At this point, I''d had the earrings for 2 years so any sort of imagined ''warranty'' was probably over...but we wanted to see if maybe they would cut us a deal on the ring setting or similar. I didn''t want to trade the earrings in necessarily, as I had already had them for 2 years and figured...well H or N they are mine to keep--but we were a little peeved that these were mis-sold to Greg and that they appraised at $500 less than he even paid. Ridiculous.

We told the jeweler in somewhat of a passing way and he and his wife were appalled. They compared the earrings to some H''s in their case and while it was obvious the stones were not H''s...they were not convinced they were N''s. Anyhow...they immediately suggested that they replace the earrings and make it right, so we were very happy because we weren''t even really expecting anything, but rather ''hoping'' for something positive such as that.

They order the earrings, my ring is finished, Greg picks up the ring and sees the earrings, but asks them to have them reset into screw-backs as that is what I originally had and I preferred the extra security. Two weeks later, we pick up the earrings, check them out (I''m happy to see a very minor carbon inclusion and a slight cloud to the right of the table immediately under a 10x...yay...eyes are getting better at spotting things!), they look amazing to the naked eye, very white and sparkly. HUGE difference from the original earrings. Jeweler tells us they are G/H VS and a week or so later I take both the finished ring and the new earrings to the appraiser and have her run a complete new workup on the earrings and finalize the ring appraisal.

Was pleasantly surprised to learn that the earrings appraised at 2ce what Greg paid for them 2 years ago, they were strong G''s and nowhere near H color, and were VS2 with one bordering on SI1. She also commended the cut and said they were very well cut for earrings--whereas my original ones were very deep with large tables (e.g. 63% table, 65% depth), and the new setting was a basket setting rather than a tulip-head so they fit much more snugly against my ears than before. I am still having her send me her notes with all the specs on the earrings which mean nothing for an appraisal, but we would like to know.

All said and done, we are very happy we had to go through this entire ordeal, as it means that we are more savvy than before, we know our jeweler will not hesitate to make things right with us (still don''t know how the whole thing happened in the first place), and I basically have brand new shiny G VS earrings that I love.

However, if only we knew then what we know now! Greg went into the store 2 years ago with some knowledge of the 4c''s under his belt, but he had NO CLUE that these were N stones. We never took them anywhere else to have them cleaned but the jeweler, and never left them anywhere. So if you are planning on buying earrings or a ring or any type of diamond jewelry, be sure to get it appraised or get a 2nd opinion on what you are buying. If we had done this originally 2 years ago instead of procrastinating until we had the ring...we would have known immediately and had the problem rectified. Luckily it turned out alright for us, but get your stuff checked!



...enjoying my new earrings...