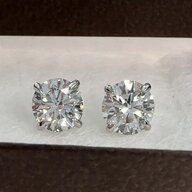 Joined

Aug 30, 2017
Messages

480
Hi,
I just had custom earring mountings designed for 2 5 ct diamonds (10 ctw studs). they have shortened Protekor / La Pousette posts (to 8 mm) but the earrings drop a little. I ordered Chrysmela Extra backs to see if those might help.
Few questions, on Protektor backs (earrings are 18K white gold but protector platinum for extra weight), are you supposed to lock them in every time or push past the lock to have a tighter fit? Since these are pretty large and expensive, I 100% want them ultra secure not to lose an earring ($80K loss for one would be painful). I can get these to work with pushing the back past the notches but I don't know how secure this is. I used to wear smaller studs always clicked into the notches but they were lighter so earrings would not droop (2.13 ct and 2.09 ct each, which are for sale by the way, reach out if interested, GIA J VS super ideal cut).
I don't know if Jumbo backs are as secure.
What would you choose from the most secure earrings backs for large studs?
Photos are with Protektor back pushed all the way to back of ear vs clicked into the notch.
Thank you!