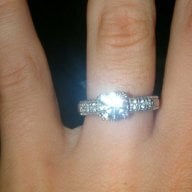 Joined

Jul 23, 2006
Messages

1,371
I got my ears pierced at a jewelry store when i was 6. i couldn''t wait to have it done. they used the gun and did the first ear and i ran out of that place like a bat out of h*ll. i didn''t know that they used a gun in your ear---iguess i thought they''d just magically appear in my ears.

i ran all the way down the block to the corner--but since i wasn''t allowed to cross the street, i just waited crying until someone came for me...lol.

i went around with one ear pierced for months and was teased the whole time. (it was the early 80''s and only boys had 1 ear pierced) i was scared it would hurt to take it out. finally when i was sleeping 1 night my mom took it out. i got them re-pierced a few years later.....and then i let my younger sister make 2nd and 3rd holes in my ear...real smart.