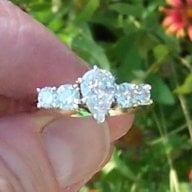 Joined

Jan 2, 2006
Messages

2,194
My mom said i could get my ears pierced at age 12. I eagerly waited til I was twelve. We went to the 1970's version of claire's in atlanta, georgia. it was in a mall.

the only choice of piercing studs was 14k yellow gold balls with a sharp pointy end. the lady marked with ink the place where the earring was to go, mom agreed, and bam, the lady jammed the earring through with her hand into a cork behind my ear. It didn't hurt. i think the surprise element helped.

fast forward to a few months ago. at age 43, i decided i wanted second holes for additional diamonds studs i had acquired. i went to pirecing pagoda in the mall (highly recommended). a teenybopper marked the hole in ink and used a stapler thingie with the earring and backpiece in it to pierce. it didn't hurt but the noise of the stapler made me jump.

i had chosen white gold piercing studs. big mistake. they never healed properly. I gave up about 6 weeks into the process. put in yellow gold studs and then they healed well.

i recommend yellow gold to anyone who is thinking of doing this.

your turn.