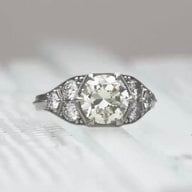 Joined

Jul 27, 2005
Messages

1,099
Coming out of semi-lurkerdom- hi!
My husband and I will celebrate our 10th wedding anniversary this month & I have a milestone b-day as well and I finally feel like the time is right to reset my engagement ring.
Background
: I have never been thrilled with the craftsmanship (blobby uneven prongs, visible weld/solder marks etc) of my engagement ring (there are ancient PS posts to prove it,) I have thought about going down the reset road before, but life always got in the way (3 kids, owning a vintage home, an addiction to buying vintage furniture for said home, etc.) The center stone of my e-ring is a family stone from a necklace of my H's grandmother- therefore
upgrading the stone is NOT an option
.
I had my ring appraised by an independent appraiser, Theodore Baer, in NYC shortly after we got engaged (11 yrs ago!), I so I have specs (he only viewed the stone in the setting) on the main & side stones.
Center stone = Round transitional brilliant cut 8.27-8.28 x 4.19mm approx. weight 2.07
Girdle thickness = very thin to medium, Culet= small/good condition, Clarity VS2, color M, Strong fluor
Side stones= the larger 2 diamonds on each side are appox .14 each and the smallest stone on each side is approx .05. These stones are VS1-2 and I-J.

Function: Currently I don't wear my e-ring on a daily basis. It sits very high and I have scraped by myself & my children with it. Of course I would never wear any ring while doing housework or exercise, but one of my main goals is to have a more comfortable, wearable ring. I want all of the stones to sit closer to my finger.

Aesthetics: The basket setting is bulky & clumsy looking, prongs are large & wonky. Currently there is a lot of metal in my ring that seems to just be there being ugly, the gallery is completely depressing. I look at pictures of rings both new & vintage settings and see dainty prongs & pretty underbezels with diamonds, or petal shaped prong supports and I have pretty setting envy!

I would like a setting that uses my existing side stones. I do like the 3 stone clover-like design, and I have had that 3 stone arrangement in earrings I have, so I would like to have it present in the ring, but I would like the shoulders of the ring to be smooth/sloping rather than stepped as they currently are.
Questions:
1) For the reset I would like to use all of the stones in my current ring and I am not opposed to adding melee/additional accent stones. Is this unrealistic? Not cost effective? While the side stones aren't large, they are bigger than the typical melee size and they are prong set, so shouldn't removing them not be too terribly difficult?
I have emailed a popular PS vendor, and a vendor who used to be more popular on PS, but I haven't seen any recent posts about, who is local to me. I got 2 VERY different quotes, with one vendor stating he would not use my side stones, because removing them could cause breakage? (I know that there is always the possibility of a stone breaking, but I have had smaller stones unset and reset for an earring project in the past, and
2) I know from Mr. Baer's report that my stone has a natural along the girdle at the 11 o'clock position and a nick at the 5 o'clock position. Based on this information I was thinking that I would want my new setting to be a 6 or 8 prong set bezel, either hexagon or octagon (like Dreamer's amazing ring.) The jeweler should be able to advise me on this after they unset my stone from its current setting no?
Neither vendor gave any feedback regarding this. When during the process would this type of detail be discussed?
3) We don't have an unlimited budget- can I get a high quality setting for around 2k without a halo or doing much/any pave work?
4) Should I be getting quotes from West Coast vendors? It seems like a lot of the California vendors deal with setting vintage cut stones, am I missing the boat by trying to stay localish? I live in the DC metro area, so I would prefer to use a semi-local to local jeweler (NYC to DC.)
Thank you for reading- I have been researching a ton and I am beginning to second guess/doubt myself and I haven't even made any decisions. I know that going custom isn't for everyone, but I have never seen a setting that seems like it would be right for my main stone.