So let me start out by saying thank you. I have lurked on PriceScope for the past few months in the midst of my engagement ring search and reading through so many threads has proven to be infinitely helpful. I have been consistently blown away by the knowledge that so many of you helpfully share here on the forums. I owe you all a lot...since I knew absolutely nothing about diamonds going into the search. So now that is out of the way...on to the good stuff.
My proposal date is still a few weeks away (she know's it's coming soon) and I am so anxious (I know a lot of you guys probably know how I feel). I was nervous going in to the search since I am young and while I do have a steady job, I definitely am on a shoestring budget and I didn't think I was going to find something that just screamed my (and the gf's name) on my budget. And now because I am shriveling in anticipation...I am hoping to curb the temptation to pop the question early by sharing my excitement with all of you (plus I know how you all love pictures)
I started out by going into some chain jewelers...what a mistake. Every single store put an exhorbant amount of pressure on me to hand over my credit card at the first ring I thought looked OK. Sales people were rude (I don't know if we can name names...but if not I can delete this...but special shout out to Michael Hill Jewelers for your extraordinary pressure and endless phone calls despite my requests to stop). I soon decided that chain stores, while convenient, may not be the best route to go. On top of that, I wanted a ring that was going to be special and that my girlfriend wouldn't find just anywhere on anyone.
So after that I decided to go shopping with the girlfriend to get an idea of her tastes. I kind of guessed she was going to like the "antique" style of ring, which proved to be true. She didn't like super blingy, definitely didn't like modern, and didn't want a plain solitaire. She also didn't want anything huge on her finger (she is pretty modest on jewelery in general and is a kindergarten teacher). That being said, she definitely likes a little bit of sparkle (every girl does). And we had previously decided that it was just a trip to learn about her style...she didn't want to see or pick out the ring.
After a few shopping trips together I found Pricescope and it helped to give me a lot more confidence and clarity (no pun intended) when reasearching and deciding on my purchase. I had toyed with the idea of buying online, but I don't really buy anything online and for personal comfort I wanted to buy somewhere local where I knew if anything happened I would have easy access to a local store. I really did enjoy alot of settings at
Whiteflash
, and specifically Pearlmans Jewelers was very responsive to my e-mails and questions regarding a Beverley K setting I had expressed interest in.
We checked out a few local jewlers and all were very helpful, but when I set eyes on a setting at a local jewler I knew that it was going to be a perfect fit. It took me a month to actually pull the trigger (I brought in some extra set's of eyes to help in my decision). The setting screamed her name and while I know the advice is to shop diamond first, this setting blew me away. It was made by a company from California (Jyes International) that I have never seen referenced here in the forums (I don't know if that is good or bad...but to my untrained eyes the quality is great...)
Next step was the diamond. My local jeweler brought in three round diamonds all around three quarters of a carat. Two had GIA Certs while one Had an EGL. I was nervous of the EGL after doing my homework here on Pricescope, but while certifications are important ultimately it is my eye for what is and isn't pretty is what makes the decision. I ended up getting a .68 Round Diamond. Here are the Specs for you spec junkies...but for me this isn't very important. I just wanted something that looked beautiful to my eye:
.68 Round Diamond
.25 Carats of Diamonds in the band
D Color
SI2
Inclusions are White.
Excellent cut and jeweler pointed out Hearts and Arrows
Scores .9 on the HCA
I know EGL grades more genrously than GIA...but in comparing three diamonds this one stood out as the whitest and most sparkly. It may not have been the one with the least inclusions, but to be quite honest the inclusions weren't obvious to my naked eye. I looked at it under the loupe and the certificate and I am sure to some of the veteran pricescopers it may not be the cleanest, but on a budget of $4,000 I knew that I was going have to give some slack somewhere and my eye was MUCH more sensitive to color than it was clarity. And I know the regret that I would have in spending more money to get a ring that looked esentially more yellow and less beautifuI would be a decision that I would regret. I would be lying if I said I wasn't nervous about an EGL SI2...but once I saw it in the setting I knew I had made the right decision. My photography skills can't do this ring justice...to me it is just so sparkly and clean and white and I absolutely am confident that my girlfriend is going to love it.
My advice to first-time buyers would to absolutely use certifications as a guide rather than a bible. I was scared about the SI2 and even more scared about the EGL, but ultimately I was happy that I chose a diamond that was right in my budget and that was the best looking stone to my eye. I don't think I did this completely by the Pricescope way...(spending about 35% on a setting...choosing the setting first...going with EGL, etc). I may have been able to save money by getting it set online, but I don't mind paying for peace of mind. So without further ado...thank you and here are some pictures. I am envious of some of your picture taking skills...I can only manage to get good pictures of the setting. I will try to get a face up picture of the diamond next time I pull out the camera...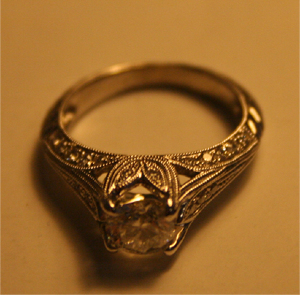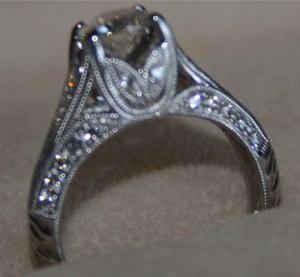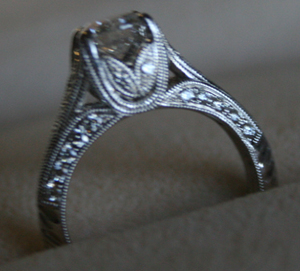 Sorry about the long post...but I am excited and this is my way of venting before the "big day.