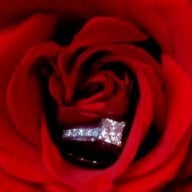 Joined

Mar 19, 2008
Messages

121
So I have a friend that is a pretty good photographer and has a pretty sweet camera. While we''ll definitely do engagement pics eventually (when we book our wedding photographer), FI and I want a couple of pictures to post on our wedding website and to put on our STDs without having to pay for a separate engagement session when one will likely be included in our wedding package.

We''re gonna hang up a white sheet in our living room and have her take about a million pictures. We''re hoping to get 1-2 pictures to turn out decently!

1. Did anyone have their epics taken in a studio? If so, I would love to see them
2. What are some must-have poses I should not leave out?
3. Any other tips would be great! All 3 of us will be newbies to epic taking!

Thanks PSers! <3 you and Happy Valentine''s Day!