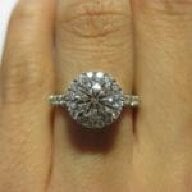 Joined

May 17, 2008
Messages

220
So how long did it take you to find your perfect dress? I've been shopping for two months now, been to about 10 stores to try on probably close to 50 dresses and still haven't found "the one". I love the process because I get to put on so many pretty dresses
but I'm also starting to feel like I'll never get the "ah-ha" moment. I'm telling myself to keep looking though because I still have a couple of months to decide (wedding in 10 months). I have an idea of what I like but something always seem to bother me (ie. waistline location, material, etc etc). Been looking online a lot as well, but haven't fallen in love with anything (although I saw a few I like and want to try on). I wish I was the type that can decide on a dress after trying on just 3!!! Although I'm a bit deflated, I don't want to "settle" because I'm scared I'll end up buying another dress and become a two dress bride.
I must say....picking out diamonds and engagement rings was a much easier task!!!

What was your dress experience like?