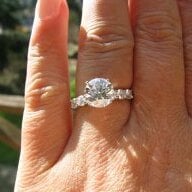 Joined

Oct 19, 2006
Messages

1,394
Hi ladies
For a little background, my fiance and I decided to go to Hawaii and get married on the beach in a simple ceremony, just the two of us. I am about to turn 46 and both of us have been married before.
I decided while I do not want a "formal" type wedding dress, I do want to wear something special when I say "I do". I looked online at a couple of department store type places, but I really do want something special and not an averge off-the-rack type dress.
Here are the two that I think I have narrowed it down to, and would have it custom made in
ivory
and
without a train
. I am about 5''3" and wear an 8-10 if that makes any difference.
What do you think? Appropriate or not? I''m thinking either of these could be worn again to other events if done without the train.
#1
http://www.1koo.com/wedding/itemdetailc.asp?itemid=HSc0158
#2
http://www.1koo.com/wedding/itemdetailc.asp?itemid=HSC0206