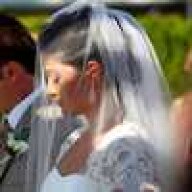 Joined

Jul 6, 2004
Messages

428
Ohhh I need some advice and I don't really have anyone else to ask at the moment. You all are so helpful so I thought I should try here!

I ordered my dress almost 3 weeks ago and when I was ordering, I wasn't given the option to choose a color. So of course I asked if I had a choice and mentioned that the website says the dress comes in "white" and "off-white". (This was when I was ordering the dress.) They told me that the designer no longer makes the dress in white. So off-white it was! Well I've looked at the website several times since then and it still says "white or off-white". So I emailed the designer to double check and I was told that the dress does indeed comes in two colors and that there must have been a misunderstanding (well not on my part, that's for sure!). So what should I do? Have the dress remade or just stick with the off white? Is it a big deal? I'm not really sure if one color or the other looks better on me. I know the white isn't a stark paper white... it 100% silk, so it's more of a softer white. The off-white is inbetween white and ivory. Opinions? Any suggestions on what would look best with my skin tone? (I have a tannish olive color if that helps.)

I wish I had pics of me in both colors to compare, but I don't.

Just have these of me in the off-white sample....
Thanks in advance!
ETA: This is a different dress (the dreaded mermaid one- I don't have the bod for it!) but I believe it was more of a white color, so maybe this will help to compare?
Side by side comparison:
(Not sure why I look darker in the first pic... must be the lighting?)