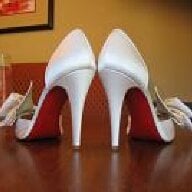 Joined

Nov 13, 2007
Messages

5,720
I was reading a blog somewhere on the internet, that was like a Q&A set-up...

The MOG wrote, that her son and FDIL were havnig a traditional wedding and the brother of groom is the BestMan. Well, Son and FDIL want all the groomsmen to wear black tuxes, and brother who is in the forces, is saying if he can't wear his dress blues, he will not be in the wedding.

I'm kind of torn, how would you react? Side with the couple getting married, who are worried he will either ruin the cohesiveness of the "look" or command attention during the ceremony (MOG wasn't sure of their exact reasoning), or the brother who should wear what he's earned?