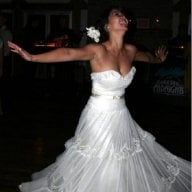 Joined

Aug 28, 2008
Messages

1,247
Ok...so I''ve been holding in a secret for the past two weeks. I bought my dress!!
Ever since I registered on PS I''ve been raving about the Melissa Sweet Fern. It''s been my dream dress for
months
, then I tried it on in a salon, and my dream became a reality. Well, sort of, as I wasn''t about to pay the $6100 + 13% sales tax (CAD) for it! So, immediately after trying it on, my mom did some major googling and found a Fern for sale on Craigslist. After many emails and a couple of phone calls, the dress was shipped to me in Canada from Atlanta, Georgia...for less than a third of the regular price!!! Weeee!!!!!

I picked up the dress on Wednesday and took some self pics. Warning: they are NOT fabulous pictures. Surprisingly the dress fits me wonderfully (except for the fact that the previous owner is 4" taller than me and wore 4" heels...major shortening is required!). I also need to either find a great undergarment to hold up my girls or have bra cups sewn in? I''m not sure....I need advice in this area. I should add that my body is not normal. I wear a size 0/2 and 32F.

So, without further ado, my

Fern

.