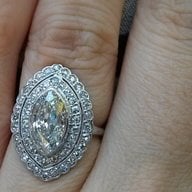 Joined

Jun 13, 2005
Messages

1,046
I don't really know where to put this, hope no one minds it here.
I'm posting on PS because I don't think anybody in my real life would understand. Plus, in the scheme of things, this "problem" is not a very important one.
Anyways - so I have an unexpected lovely upgrade budget from my DH. It's a very sweet surprise. So I've been looking for a largish OEC for a little while now. This has not been fun! I'm in Canada, and as we all know, pretty much everything is in the US. I am not enjoying the process of shopping remotely. I need to see stones in person, but cannot.
Plus, for whatever reason, I'm needing a lot of support and encouragement in this process and I think most vendors don't realize this or don't encounter it often, so I'm often left feeling like I'm not getting what I need. (I'm dealing with both PS and non-PS vendors in a few places around the US. BTW, everyone has been very professional, so this is not a knock against anyone by any stretch.) There is one dealer who has been great on the softer side of things, but we've not found any stone matches together yet.
So I don't know. I just feel... frustrated. By being in Canada, not being comfortable shipping stones in this range back and forth over the border. By having to shop remotely, sometime with vendors who don't have good pictures or are unable to provide videos. By hearing rumors that stone prices are going nuts and giving myself pressure to hurry up and just find something.
Mostly I feel lost and alone in the process. I feel I need help.
I'll be going to Las Vegas next week so hope to see a number of possible matches there. But if that falls through, I guess next I'm going to NYC later this summer.
Boo. I feel I should be enjoying this process, but I am distinctly NOT. I am finding it stressful.
Will gladly accept any comments or advice. Has anyone else felt this way?
Do I need to change my approach and/or expectations?
Thanks for reading,
Anne