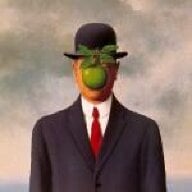 Joined

May 23, 2006
Messages

1,095
Time to start posting pictures of the bridal jewelry I''ve been accumulating during the past months.
This is the first part "payment" of the dowry to my future MIL. My FMIL is Thai and when we were dating my FI mentioned a dowry. My first thought was "Hell no". She explained to me the cultural part of the dowry and how in Thailand that half of the dowry would be given back to the couple as a wedding gift from the bride's parents. She also said that if her father were still alive that he would definitely insist on a dowry. A few months later she mentioned that I could just give my FMIL a piece of jewelry for the wedding. She didn''t say how much it had to cost or what type of jewelry.
A funny story about my FMIL. When I was e-ring shopping I asked my FI to look at diamonds to see if she was comfortable with H-I colored diamonds. So she and my FMIL went look at diamonds. Now let me kindly say that FMIL isn''t very sophisticated with fashion. So they went to a maul store. A maul store called Harry Winston. And wouldn''t you know it the salesman they talked to spoke Thai. So they are chatting in Thai because FMIL doesn''t really speak English,. By this time FI learns that Harry Winston only carries D-F and she is reeling from sticker shock. At some point when they are shown rings (and their prices), my FMIL says in Thai to the salesman, "Hmmph, you can get it cheaper in Thailand!"

Woo Hoo. I wish I could have been there to see what shade of red my FI face was.

So for my FMIL this one''s for you! You might get them cheaper in Thailand but you can only get this from Houston, Texas.
This is a 0.75ct I, SI1
ACA
from
Whiteflash
in their yellow gold bezel setting. I think I was inspired by seeing Aljdeweys pendant awhile ago. Big, bold, yellow gold jewelry is the style my FMIL favors and this bezel setting makes the pendant look huge.