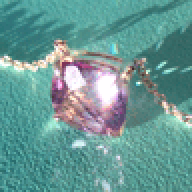 Joined

Mar 25, 2008
Messages

5,070
I received my "Spring Selections" Tiffany catalog on Saturday and upon looking at it, I noticed the sales tax information for which states don't apply tax. I showed S and he became VERY concerned about it as he wants to possibly avoid tax (when purchasing something very blingy

and send it out of state where his Mother lives where there is no Tiffany to avoid sales tax.) Because he has this whole big plan he has mentioned more than once to me about this in the past. He immediately went online and looked at Tiffany's website and some other sites and then showed me why it didn't list the state he would want to send 'it'

to. So no biggie, he can still do whatever his original plan was. The catalog only lists states that don't have any sales tax. (HOW CUTE!) I love how concerned he became...



So yesterday, we are driving down the road and he jokingly says: "Maybe your brother will start saving up for a ring" because he just started dating this girl. I said: "Yeah right

…and what about YOU?" he looked at me, smiled and said: "IT'S a secret!"



to which I said: "You never tell me anything!" and he says: "Well, why would I tell you that for. You will just have to WAIT AND SEE."



OMG I'm not positive but, I have a huge feeling he is saving some of his money for a ring!!!!!!!! I've told him for years that he should get started saving for one (never thought he was) and now because of what he said yesterday, I honestly think he finally- possibly has some or at least a little money in a 'Dreamgirl dream ring fund.' Now, I know I can't let myself get too excited (economy, his job hunt situation) but I can't help but go….. "EEEEEEEEK!!!!!! YAY ME!" lol
Just had to share. Mini celebration!!!

[/i]