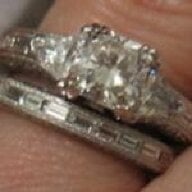 Joined

Oct 3, 2007
Messages

1,823
The photo below is my old Fabrikant band set with the new .76 ct. emerald cut which started my whole upgrade, shall we say, "journey". The emerald cut got traded for my Jubilee and the Jubilee deserved a new setting, so after all is said and done, I am kinda kicking myself in the butt for ever messing with the original ring.
It used to hold a .36 ct. marquise diamond that I am debating between resetting into a BK butterfly pendant or returning to the Fabrikant band as if nothing ever happened to it! I really think I would be happier with something else since the marquise always looked small to me in the ring. I think an oval diamond would look nice, but it would be pricey. I don't know about a gemstone. I am so used to seeing a diamond in there. What would you do? I will be wearing it as a RHR. Thanks in advance!
ETA-- I have a lot of sapphire rings so I don't want to do a sapphire.