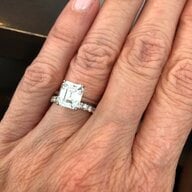 Joined

Feb 12, 2011
Messages

4,719
We have a new chocolate lab puppy. The breeder had us agree not to neuter until he 18 months to allow for full bone development. Sharing a study in labs this was found to reduce hip dysplasia and knee and elbow issues. We are also sending tHE puppy to a obedience school at 16 weeks and the trainer we are using also echoed it as a good choice. Where we board the cat and now we will also board the dog the owner raises and shows Afghans, she also said good choice.
We made our first trip to the vet and she basically told me the dog was going to have a lot of testosterone habits if I waited past six months marking my house, humping eveything and being very aggressive (he's a lab not a pit). She did everything but tell me I'm an idiot and then really frowned on me sending him away to obedience school. I did this with my last lab. Best money I've ever spent. She was a great dog. So I'm already sold on the training.
I know we have a few expert I'd love to hear your thoughts on neutering.