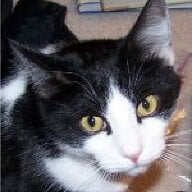 Joined

Feb 8, 2003
Messages

15,880
thing2of2|1313157601|2989278 said:

Just wondering if most PSers have husbands/SOs with expensive habits of their own to balance out our jewelry buying.

My husband doesn't have any expensive habits to balance mine out, which makes my jewelry spending look worse! (Although...guess that leaves more money for me to buy jewelry with?

) He doesn't mind me buying jewelry, but he doesn't buy any big ticket things regularly.

He does like cycling and has an expensive bike,

but he bought it several years ago and isn't the type to own more than one bike at a time. I think I'm going to buy him an expensive watch for our 10 year anniversary to make up for my jewelry habit!
Mine had developed a passion for cycling. He bought his first bike a few months back (don't remember exactly when) and he got a great deal on it b/c he put it together himself, but since then, he is constantly adding upgrades to it such as new peddles. The idea was to buy the bike, I had NO idea that all the extra stuff would have now added up to what he paid for the thing! Plus, he's a dare devil so he has crashed and broken things, including cracking his helmet.