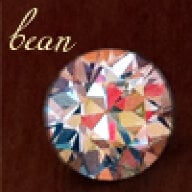 Joined

Mar 23, 2008
Messages

5,384
Well! He did it. He proposed (f i n a l l y).
I won''t have pictures quite yet, since I want to take a lot of pretty ones, but I did post a few some months back.
Back story:
Fiance (weird weird weird) gave me a time limit of Sept 2008. Well we went through money problems with him losing his job and everything, so Sept came and went. No ring. In November, we found the best ring ever, so we got it. He gave me another time limit (he did this himself so I would stop pestering him for one) of April 30th 09. I was absolutely convinced he would wait until the last minute!! That''s how he is. So I pretty much bugged him every other day saying things like, "So you know I"m single right? For tax purposes"

and "Yep, it''s never going to happen!" I mean, he had given me a time line before and broke it, so why would this be different? (hey, he could''ve proposed with tinfoil and I would''ve said yes!)
This last week:

So this last week my mom called me and said that we should all go to dinner to talk about our upcoming Vegas trip (it''s going to be her, my aunt, me and the FI). Nothing strange about that. Since we had a lot of expenses coming up I said, "I don''t know.. I don''t think we can afford it.. So probably not." She promptly calls the BF and says, "Hey.. your GF says you can''t go"

He convinces me we can go, but we''ll just get something small. So I agree since my grandma was going to be there as well and I missed her!! She had recently been in the hospital- near death- and it''s been rough. So I really wanted to see her.
Well a few days after I started thinking how his TIMELINE was getting really near and HAHA wouldn''t it be great if he proposed with everyone there. My brothers, mom and dad, aunt and grandma were going to be there, so we could all celebrate! So I walk into the living room and said,

"So are you going to propose at dinner?" He looks at me and says, "WHAT? No. Why would I do that.." and laughs at me... So I was like grrr. I then tell him, "Don''t propose in public. Please don''t. And if you do, do it at dinner or something so we can get lots of free stuff!! haha" (A joke, we''re not that desperate lol).
Yesterday:

I was feeling super good. My stomach had really been hurting Friday so I was thinking of just sending the BF to dinner, but I woke up and felt great! I wore new clothes, did my make-up and went to hang out with friends. We had such a great time. Then dinner time came, and I met the BF there. We were early so it was just us for a bit. Then my brothers came, and my mom and aunt, with my dad and grandma last. We chatted quickly about Vegas. I was sitting on the right side of my BF. All of a sudden I got an urge to PAT HIM DOWN FOR THE RING

I knew he wasn''t going to be proposing so I thought it would be funny. I started patting his pocket and he was like, "What are you doing?!?!" I told him I was looking for my ring. He says pretty meanly, "And why would I have that with me!?" I was all HMMF! You''re right! Why would you! Not like you''re going to propose ever! (this was more joking tone than mean. We are jokesters hehe).
So after a bit he insists on me switching spots with him so I can sit next to my aunt. We do and we chat. After a moment I see he has moved his chair to the corner of the table. I ask what he''s doing and he says he dropped his napkin. OOH! Ok. So I pick it up for him.

(he then apparently rolls his eyes to my mom because I foiled his plan)
Moments later I look over and he''s kinda kneeling and saying stuff. "We''ve had our good times and our bad times, and I''m not very romantic, but will you Marry Me?"

I could just see how nervous he was. Originally I had a plan on saying no and then laughing and saying yes (cuz I''m so funny) but when it was happening I was actually like, WTF WTF WTF WTF... I also had my mouth FULL OF FOOD. So yes, there he is proposing, I have my mouth full and my mom is taking pictures (omg who is the blowfish in the picture??) lol. I guess I didn''t say yes and just grabbed the ring. Everyone was like, "DID SHE SAY YES?" LOL so I was all "YES!!!!!"
Hahahahahahahahahahahah ahahahahaha I''m seriously the worst ever. He surprised me! He said it was going to be earlier but my grandma was in the hospital so he wanted to wait.. (aww) and then it was going to be LAST weekend, but my aunt couldn''t make it so he wanted to wait until everyone could make it (aww).
So yeah. My story. *giggles*