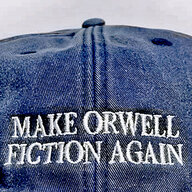 Joined

Apr 30, 2005
Messages

30,042
Wikisnip:
"A virtual private network (VPN) provides privacy, anonymity and security to users by creating a private network connection across a public network connection."

If you use one, what are your experiences?
Is it reliable?

Does is slow things down?
Any other downsides?
Is yours one of the free ones or paid ones - either way which would you recommend?

If you care to reveal ... what exactly is the main reason you use one?
I assume we have no serial murderers here, or drug dealers who want to hide their evil deeds from prying eyes.
Is it to just fight the dark side of personal data collection by creepy entities like FB apple and Google etc.?

Do you change the settings to simulate being in, say, country X to country Y to gain access to content in country Y?
Which VPN(s) did you have poor or good experience with?
How did you pick yours?
Have you run into websites that deny you access because it can tell you're using a VPN?
Last edited: