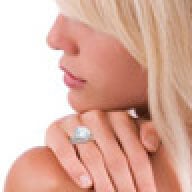 Joined

Nov 14, 2006
Messages

232
We all know there are subjective diamond grading characteristics (clarity, color, polish, symmetry, etc...). Sure there are machines and tools that help but the final call always comes down to a human's interpretation to what he/she thinks it deserves.

So my question is do you think the major labs would ever adopt machines or tools specifically designed to measure these characteristics instead of just human review? Why don't they all use a colorimeter for example or some other similar device? That one has double the precision (it measures +/- 1/2 a color grade loose) plus of course you benefit with the repeatability of the machine and lack of human error, so wouldn't going to a 100% automated/calculated system be preferable? Certainly they can create a machine that could measure clarity if they really wanted to.

The only reason I can think of that they choose not to go this route is because it would empower the cutters, manufacturers and retailers to purchase the equipment and grade diamonds on their own and reduce their need to rely on the labs for definitive grading. So therefore human grading perpetuates their business model and maintains their authority status which is why they do not automate it.