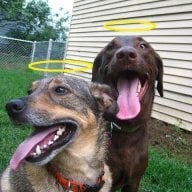 Joined

Nov 16, 2008
Messages

2,512
i like my perfume, and will continue to wear it.
other people''s perfume doesn''t really bother me. the sense of smell is the one closest tied to memory. i love when i catch a whiff of chanel no. 5 and get reminded of my grandmother! or sometimes i smell one the reminds me of an ex-boyfriend.
it doesn''t bother me one bit.
i''d much rather sit next to someone on a plane wearing perfume than a crying baby.