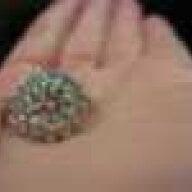 Joined

Aug 6, 2008
Messages

934
Do you think you know everything about your SO that there is to know?
I came across somthing about that I had no idea about (litterally NO IDEA) but all his friends knew and it made me so sad

I found out a couple days ago that FI is color blind

I was literally knocked backwards twice!! I had nooooo idea and would have bet money that he wasn''t if someone would have asked me. We were at a friend''s house when I asked him to grab my coat from the bedroom when he was grabbing his. He asked me "Which one is it?" I said "It''s the black puffy one"....He comes back with another girls brown puffy jacket

...I kinda looked at him and like an idiot I said jokingly "What are you color blind?" All of his friends just look at me like "what a b**ch"...FI looks at me with this look and says "Yeah actually I am"

...I felt horrible, and then to make things worse one of FI''s friends says "you have his ring on your finger and you didn''t even know he was color blind?" I didn''t even have a response...

I know that we haven''t been together for a very long time in relation to most of the relationships here...so I get that certain things come with time, but the whole thing made me question if it''s normal to not know certain things about your SO...and I''m not talking about behavior things...I know what makes FI mad or happy...I can read his face and know when he''s had a bad day or want''s to talk about something....I''m talking more about physical traits like being color blind

.
Do you know everything about your SO?