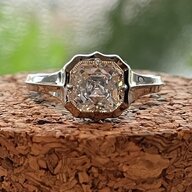 Joined

Mar 2, 2013
Messages

6,293
A statement was made in another thread: "I have to admit that I really love threads like these - they are so good at revealing a person's general character." Note: I'm not quoting the person by name because I do not want it to be misconstrued as picking; that's not my intention. The statement genuinely has me curious if others judge people (say, to the point that if you met them in person you wouldn't shake their hand, have a drink with them at a bar, or would perhaps avoid them altogether) based solely on what they post on a forum about their opinions on things. And there have been a lot of other "would you do this" type threads lately, so ...

I'll go first by sharing my ver batim response: "I personally choose not to judge someone's "general character" based on a couple of their opinions posted on a forum; that to me would be like judging a diamond as a 'good buy' sight unseen and based solely on it having a GIA report. You don't really know how brilliant it is or how big a dud it is ... until you really get to know it.

There are a LOT of people on here and in my personal circle whose opinions (be them political, social, religious, whatever) I disagree with, but I certainly wouldn't and don't pass character judgment on them for it. And I don't like them any less because we differ. Some of them are very admirable in their passion for things."