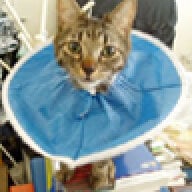 Joined

Feb 15, 2007
Messages

13,166
Deia|1319562246|3047322 said:

This is a pretty random sample of people I think!

Miss Stepcut, I see your point, however to be honest,

it is part of flying, whether you (not you per say, generally speaking) like it or not. You have agreed to take a flight and everythig that comes with it. People should chill out a bit and enjoy life. Does it really matter and will it make a difference in your life if some stranger in front of you wants to recline his chair? I don't get it!!
I agree! (About the general sentiment, not as a reaction to MissS.)
This thread makes me wonder how much our background has to do with our discomfort level in this situation. I was raised in a small home and basically never had any space to myself growing up. I wonder if people who have had the luxury of having a lot of personal space their entire lives find it more off-putting to fly in cramped quarters.
On another note: I'm just under 5'10", and I weigh around 160 to 165 lbs. So, I'm not a small person. My inseam is 35", just had it measured. At my size, I've never had my knees hit the seat in front of me, reclined or upright. I don't feel too squeezed in side-to-side, either. I've been a passenger on a variety of airlines--KLM, Swiss Air, Virgin, United, Continental, AA, Delta, El Al. Interesting how widely our perceptions vary!