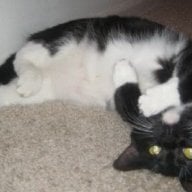 Joined

Nov 12, 2008
Messages

667
...look at a calendar or think of a future event and hope SO bad that you''re engaged by then?
For as long as I remember, I was dying to be engaged by Christmas 2008, since we don''t see certain family members any other time of year. Didn''t happen, and I was surprisingly cool with it.
Then, I wrote on my calendar the date for a huge wedding show in my city - it''s Feb. 22, tomorrow. When I put it on my calendar, I thought for sure I would be able to go to it as a future bride! Nope, unless I''m engaged in the next 12 hours...
Now the one I think of the most is B''s graduation party in May...I REALLY freaking hope it''s by then, my goodness! His parents will invite some extended family and it will be a big gettogether with friends and family, and so I desperately hope we''re engaged then so at least I can show off the ring and get the date circulating in peoples'' heads!
What future events do you really hope you''re engaged by?