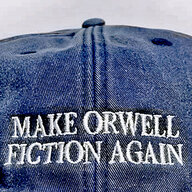 Joined

Apr 30, 2005
Messages

32,307
I'm considering composting my (non animal) kitchen garbage for 2 reasons:

1. Improve our poor soil
2. Reduce what we send to the landfill.

Of course I'll Google it but does anyone have any recommendations on what equipment/techniques/processes to avoid?

Also, if you used to compost but stopped because you felt the results were not worth the time/effort/expense I'd like to hear that too.