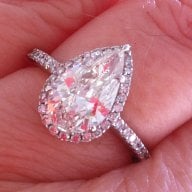 Joined

May 23, 2010
Messages

6,731
The last few weeks, I have been struggling with the idea of retiring. I could, but I don't want to, I'm the kind of person that NEEDS to be busy. Plus I hate volunteer work. So it's been a lot of soul-searching and thinking.
I asked fate/God/the universe to send me a sign.
Meanwhile, I ordered a used book from Amazon.
I received it two days after asking for a sign, and inside the front cover was an inscription that ended in "Happy Retirement!"
I think it's a sign.
I've ordered dozens of used books from Amazon and elsewhere and I've never gotten one with an inscription before. And certainly not one that answered a question I had asked.
What do you think? Do you think it's a sign? Or do you not believe in "signs"?
Have you had signs in your life, that pointed you a certain way?
Please, resist the urge to post pictures of signs.
I know you want to.

Just answer the question.