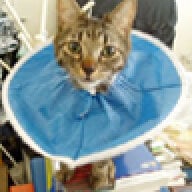 Joined

Feb 15, 2007
Messages

13,166
I only answer my phone if I want to speak to whoever is calling at the exact moment that they call, so typically I don't answer it. I only even have my phone on me and turned on if I'm waiting for a specific phone call, such as when DH is flying somewhere for work and I haven't yet gotten the "I'm safe and in Denver" call. Otherwise, the phone stays at home or in the car where I won't be bothered by it.

I return calls when the time is right for me. I don't believe that I need to be available for anyone on their schedule. It may sound harsh, but it's the truth.

We have a land line for outgoing calls only. We never answer incoming calls on it, and we don't have an answering machine or caller ID hooked up to it or anything. It's just there for calls we need to make from home.