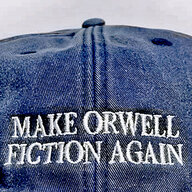 Joined

Apr 30, 2005
Messages

32,797
I don't.

Never.
Never.
Never.

Everyone we know knows to call first, even the next door neighbors - because we've told everyone this is not the 1950s.

That means every surprise ring of our doorbell means someone is after something . . . either money or souls.
I can be even sitting and playing the piano, so they know I'm home, and I still ignore the bell.
Eventually they stop and leave.

Back when I used to answer the door not a single visitor came to give me money, food, love or even a hug.
Not one single one.
So, why open the door?

Do you answer your door?