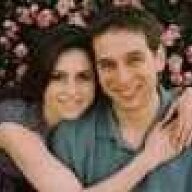 Joined

Aug 7, 2005
Messages

1,033
As a quick intro to this post, I'm 25 weeks pregnant with twin boys conceived via Clomid. I never would have thought to discuss my ovulation issues with people outside my immediate family and friends and my own kids (once they were old enough to care). However, since I was one of the lucky 5-6% who conceived twins with the medication I am constantly being asked "Do twins run in your family?" by strangers and friends. I can't help but think that they are implicitly asking whether I did IVF or used any fertility drugs. I was 25 when I conceived the kiddos, so I don't really fall into the typical demographic people think of when it comes to "needing help." I really have no problem discussing this though since I feel like people who struggle with TTC do need advocates who are open about their stories, but on the other hand the grocery store does not seem to be the right enviroment to be discussing my menstruation history.

Anyway, I was wondering what others would do in this case? I have also been asked point-blank by strangers, "are they natural?" and while I think that's fairly impolite phrasing I have no problem answering "nope" with a smile. I do intend to tell my kiddos that mommy needed some help having them, but I really don't know what to do about friends/family/strangers. Sometimes when people ask me the question about whether twins run in my family I do elaborate and say that I took Clomid, but it seems like only the infertiles truly get what that means. Occasionally people even respond, "oh, I want twins too, I should do that!" or "so you knew you were probably going to have twins?" both of which are just plain silly/uninformed. I really don't give a darn what people think about me, but I want my kiddos to feel comfy with the situation since I know that later on people might be asking me in their presence. I don't want their twinness to feel any less special to them just people deem it "unnatural."
Right now the biggest issue is what to do about my family. My mom and most of DH's family know about the Clomid, but my dad didn't know we were trying so it seemed like the "we're pregnant. . . and it's twins" surprise was pretty big and I postponed going into the intimate details of my gyn history. I'm not sure if I should eventually initiate a conversation or not worry about it unless he asks me directly. Of course, my more distant relatives have put a more personal spin on my initial question: "But twins don't run in OUR family!"
I would really like to hear what people think and what you would do in this case! Right now I've just been answering the questions that people ask me (not assuming they mean something else) but others do seem awfully curious!