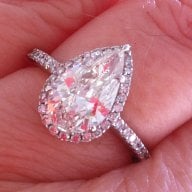 Joined

May 23, 2010
Messages

6,731
Since DF asked for more topics, here's one;

Do other people flirt with your SO? Give an example.
A couple of weeks ago, DH was buying me a surprise bouquet at the grocery store (after 32 years, how sweet is that?), and he was surprised at how many women smiled and made little remarks at him, like "lucky girl!", and "you're so sweet". One of them even followed him to the checkout and out of the store and then started talking to him about his car, saying she would like one, etc. When he mentioned "my wife", she stopped abruptly and walked off.
DH is now pushing this technique for single guys; carry flowers around the grocery store.

I think he's getting more attention in the last few years because he's a silver fox. Apparently there are not a lot of older guys without wedding rings on (yes, we've talked about this, but I think he secretly likes the attention
). Lately, there have been lots of ladies that chat with him while we're out shopping and when I appear, they scurry off. Doesn't bother me, doesn't seem to impress him too much, he's kind of bewildered.

Let's hear your stories!